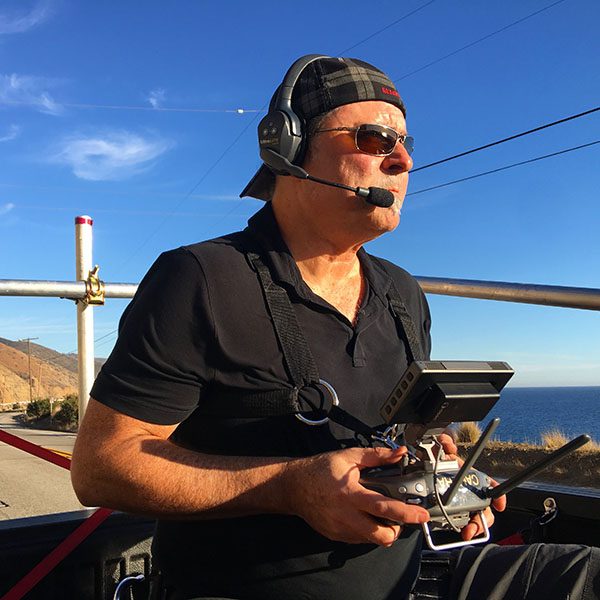 As seen in Voyage LA –

Meet Drew Cobb
of Dronewrx
from Hollywood,
California
Today we'd like to introduce you to Drew Cobb.
Drew, let's start with your story. We'd love to hear how you got started and how the journey has been so far.
I'm an LA native who grew up in the shadow of the Hollywood sign when it was a dilapidated relic from an era gone by. My friends and I hiked and played on it before there were fences and security cameras, and the buildings above it were a rescue-training center. My dad worked at ABC TV back in the golden age of television as a cameraman and videotape operator. He was an early adopter of computers and had an Altair 8800 in his office, which was known as the spark that ignited the micro-computing revolution.
After graduating from Hollywood High, I went to L.A. Valley College and got a degree in Graphic Design, but was always drawn to TV/movie production. I took a series of production classes at Pasadena City College to try to get that going, and in the process produced a cult-classic video called "Punk BBQ" which featured animated slam-dancing hot dogs. (link below)
Right out of college, my dad hired me as an audio tech for the '84 LA Summer Olympics, a production that won him one of two Emmys which raised my interest level even more. Later that year I moved to Keystone, Colorado, and started a ski video company called Summit Videoworx (you'll see a pattern soon), where my passion for action cinematography took off. Back then, there was no such thing as "handicams', we skied with a large camera attached to a deck on our back. Though I loved the work, I never really fit into the mountain lifestyle and discovered I wasn't the ski-bum type.
Within a year, I moved back to L.A. and soon thereafter got a job as the Art Director for a local publication called Music Connection. Being a young man in the city I grew up in, suited my lifestyle much more. It was the 80's and having a business card from a music magazine got me into concerts and clubs all over LA. I took full advantage of that and had a blast. However, my liver probably wouldn't agree with that statement. In the late 80's David Pascal and I opened a design studio called D-Squared, a name based on the first initial of our names. We met at college and had become fast friends. He had a Mac 2-SE, which was my introduction to the wonderful world of Apple products.
We worked with a sax player, Scott Page, and his company Walt Tucker. As the in-house art department, we paid our rent by designing t-shirts for music companies. Instead of basic logos on shirts, we produced high-concept illustrations, making our designs a big hit at a several NAMM shows. During which time we created an animation concept called Numbooty Island that got a lot of attention with animation companies and toy manufacturers. (@NumbootyIsland)
By 2008 I was burned out from working at the computer, often seven days a week. When I was busy I'd hardly leave the house and had no human contact, so I was looking for a new direction. One of my childhood friends, Ralph Merzbach, helped me get into IATSE 695 Union and onto CSI Vegas video playback team. CSI filmed at Universal Studios, and I lived walking distance away. It took longer to find a parking spot in the structure than it did for me to drive to the lot. I would have walked, but a large part of my job was renting equipment for various set-ups.
Renting equipment to a production is common when you're part of the crew, and in those days it was even more lucrative, which gave me an idea: As Second Man in the department, I had plenty of days off, so I started a company called HD Videoworx, renting my video cameras and accessories to the public on Craigslist. The popular camera at the time was the Panasonic HVX 200, the first HD camera that shot to cards (yet still had a tape recorder built in), which was largely responsible for the launch of the HD "prosumer" revolution. I did pretty well for a couple of years, but soon DSLR's changed the game and people could get a film camera look for a lot less money and that market started to wane.
In 2011, I was at Lightstone Rentals sub-renting gear, and owner Ryan Beardsley introduced me to the brand new DJI Phantom 1. Sold ready to fly with its own cheap controller, the Phantom 1 ignited the drone revolution. Though you had to buy the camera, gimbal and wireless video system separately, it was much easier to get started than the "design and build" models that preceded it. The bad aspect of the early days is there wasn't much information on how to work drones, not even instructions in the box.
The good part was there were zero regulations and you could fly virtually anywhere. I was immediately hooked and started spending LOTS of money on my new found pursuit.
When the FAA finally regulated drones, they required an actual airplane pilot on set for commercial purposes, plus something called a Part 333 exemption. In those days anyone with a pilot's license was in high demand – even if they lacked film experience, they still got work. Because of drones, film crews could get the production value of helicopter shots for a fraction of the price and those early adopters capitalized. As the technology and the craft continues to advance, drone shots often replace dolly and crane shots.However, it's often unnerving just how much directors will push us pilots to "get closer".
I really wanted to fly drones professionally but flying small planes was never on my bucket list. My dad flew private planes when I was a kid and I was with him one day when he was practicing mid-air stalls. I turned four shades of green in the back seat of that Cessna 172 and had to be dropped off at an airstrip in the middle of nowhere until he was done. Despite my childhood "trauma", I started taking flying lessons in the summer of 2015 at Camarillo Airport with Skyrider Ultralights.
For someone who experiences a fear of heights, flying at 2,500 feet, in what is essentially a go-kart with wings, took a lot of determination. Turns out I had a knack for flying, and will forever thank my instructor Jeffery Steele for that. I received my Part 61 pilot's license March 20th, 2016, and Jeffery passed away (of natural causes) less than three months later. It was quite a shock, we had flown together less than two weeks before his passing.
We're always bombarded by how great it is to pursue your passion, etc – but we've spoken with enough people to know that it's not always easy. Overall, would you say things have been easy for you?
Absolutely not. The life of an aspiring drone pilot was neither smooth nor cheap. In the early days, there was no obstacle avoidance and "return-to-launch" was an iffy proposition. I had a few "fly-aways" in the span of six months, (when the drone inexplicably flew off into the sunset, never to return). So without any assurance that I could make a living at this, I had to repurchase those drones at a couple grand a pop. In addition, my pilot's license cost over $8,000. Nowadays, "fly-aways" and a pilot's license are no longer a factor. However, crashing and bad decisions still are.
Another aspect of being a drone pilot, it's almost entirely a freelance business. There are busy times and slow times, and when it's slow I get a little stir-crazy. Beyond the fact that there's no money coming in, I really love what I do. Taking my drone out just for a spin is not the same as flying for hire: The on-the-job pressure has a subject which creates a goal, with the satisfaction of accomplishment. It's become what I live for. I'm also flexible and will operate the camera, work for other companies and on occasion have produced and directed. (see link for a virtual reality music video for the band YOLK, or Rebuilding Detroit sizzle reel)
This year I came up with the perfect solution to make my downtime productive. I developed a line of merchandise for drone pilots and enthusiasts called Drone Ops Airborne. My initial release is nine designs on t-shirts, tank tops and hoodies. Everyone seems to love them and I'm confident they're going to tickle a nerve. Please check 'em out and give us some feedback! (link below)
Do you feel that our city is a good place for a business like yours?
If someone was starting out, would you recommend them starting out here? If not what can our city do to improve?
Well, this is Hollywood and I do live walking distance from Universal Studios, but I'd have to say both yes, and no. Drones were a "Gold Rush" two years ago when the FAA relaxed the requirements to be a commercial drone pilot, so a lot of new people got into the business thinking it was going to be easy money, but that glut of hopeful prospects was the end of an exclusive era and were essentially their own undoing.
The FAA says approx 2,000 people a month have been getting their part 107 license since it was introduced August 29th, 2016. I'm sure DJI (the preeminent drone manufacturer) is loving that statistic. But unless you have a plan or connections for work, do this because you really want to. It will be telling to see how many of those 48,000 eager "thumb twisters" renew those certificates starting this Fall, as they expire after two years and will require taking another FAA test.
While it's nothing to sneeze at, the days of making outrageous money are behind us. The industry has gotten competitive and rates have dropped due to supply and demand. L.A. is the biggest cinema market in the world but it's also the most competitive. I belong to a job board, and when a drone job is posted, 10-15 eager pilots have applied within the hour.
I don't see anything that the city could do, but my advice to potential drone pilots would be: In order to be successful you have to be available all the time. Work often pops up at the flash of a text: I once got a call at 3:30 PM and was on a plane at 9:00 PM, so if you're serious, you're going to have to quit your day job. It's also likely to be slow in the beginning, so if you like to eat, you might have to develop a taste for salty noodles.
You're also always buying the latest gear, so plan on parting with a continuous stream of speculative money. It's fun money to spend, but you're often not sure if what you purchase will add to profits, extend your capability, or just add to your credit card debt. I make sure to save boxes of items I purchase to make it easy to resell items. I have quite the box farm because of it.
Lately, I'm seeing pilots drop out because of all the competition, and the costs. I guess that doesn't sound too encouraging, but it's reality. You're going to have to want to do this and be 100% committed. However, there is always room for talent, skill and most importantly, professional follow through. At one time merely owning a drone got you to work, now you have to constantly promote and look for your next job.
I've had so many amazing experiences and met some amazing people because of this career, and I feel truly blessed to be able to do what I do.
We'd love to hear more about your business.
My business is called Dronewrx. My strengths are communication, I'm easy going and I don't crack under pressure. One thing you need as a drone pilot is steady nerves and hands. I raced motocross and BMX as a kid, and to this day I still ride anything with one or two wheels. I also sang and played guitar in a bar band, so all those experiences combined, have helped me keep calm when adrenaline is flowing. Flying a drone can be very much like performing. You have to be on when it matters and often there's no second chance. Because I worked in TV and movies, along with the camera rental biz, I'm well versed with set etiquette and camera jargon/set-up. I'm good at keeping my ego in check, which makes it easy working with strong personalities and my background in graphic design gives me an eye for detail and composition. I'm good at keeping an open mind and always willing to learn a better way… except in L.A. traffic, then I'm always right.
Last year I discovered electric unicycles (EUC), the simplicity and the speed appealed to my inner moto-man, so I dove in. There are guys in the film-industry who use Segways and hoverboards as a way to move a camera smoothly, but they have comparatively small wheels and they don't go very fast. The EUC's I own go 25 mph, have 16" and 18" wheels, can go off-road and fit through narrow spaces. Best of all, I can get shots while in motion and record sound without kicking-up dust. See a demo of the technique I call Reel-Motion at the top of my Work page on my website.
I often partner with Eric Bergez, a stabilized camera specialist and owner of Industry Sherpa. Eric and I now offer our combined services doing both drones and car-to-car shots under one banner. Usually, productions have to hire two separate entities to do this, but with us, you get both, which saves productions time and money. We recently shot the promo video for the Hennessy Venom F5, which is the first streetcar to hit 300 mph. We worked with director Robert Angelo and producer Aaron McKensie, both well known in the car production circles. Shortly after, they called us back to work on a Mazda spot. Currently, we're in the process of purchasing a Movi-Xl, which is a stabilized camera head that balances cameras up to 55lbs. Garden variety stabilizers can handle around 30 pounds, so that extra 25lbs capacity is great for directors who want to use "serious glass with FIZ control" (Focus, Iris, Zoom).
I've been an entrepreneur my entire life, switching careers three times and have always lived life on my own terms. In discussing this article with someone near and dear to me, they pointed out a quality I bring to my work ethic that she noted is rare in the business world; I accept responsibility for my missteps and use them as learning experiences. I'm always open to better and more efficient ways to get things accomplished. Over the years, I've partnered with some of my best friends and we remain best friends to this day. I'd like to think that's a testament to who I am in business and in friendship.